mercurial 9
mercurial 9
23 Nov

OC
What is to be expected for Land Pre-Sale Stage 2? || Ep. #42 || Splinterlands
This coming weekend will be the second stage of the Splinterlands land sale. In this post, we will look to explore what that means for players?
DEC Chart during Stage 1
Looking back at the first pre-sale for land was depending on how you look at it a success for some and significant disappointment for most of the player base. One thing that interests me is looking at the DEC chart and see if we can spot any trends in the chart. 
Looking at the chart it went through a full 3 phase cycle: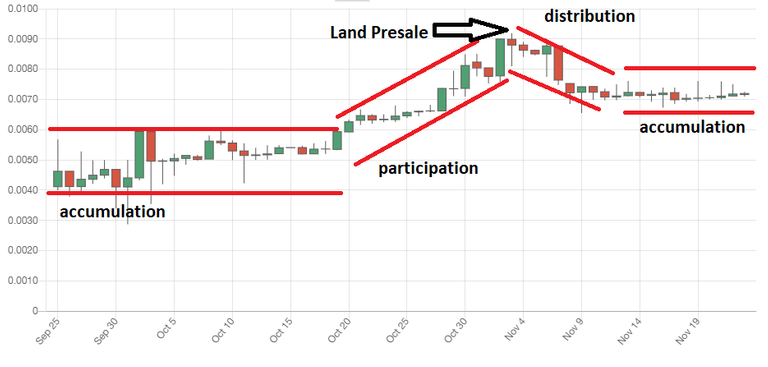 The accumulation phase is where informed buying by astute players occurs before the market would start to trend.  


The participation phase follows when prices begin to advance rapidly, and the majority of players becomes involved.  


The final distribution phase occurs when astute players realise the extended market conditions and start to distribute their DEC before everybody starts to sell. 


I wasn't able to purchase any land as the site was unusable, but I was active in the discord community during the sale. According to the splinterlands team the sale was sold out in 21 seconds. This also resulted in a 20% price drop of DEC over the next day, which sucks for a majority of players who had been accumulating DEC for a while to participate in the land sale. 
What will happen in stage 2? 
This time around, there is a lottery system in place, which may improve things and provide a chance for the majority of players to get their hands on the land. I predict the price of DEC to continue to rise in the lead up to the sale and then course correct to previously established support prices ($0.0008/DEC). I will not be participating in the land sale this coming weekend but will be taking advantage of the higher DEC price and buying cards. Buying cards at a higher DEC price will work out cheaper in the long term and will help me reach my next goal of getting 400k collection power. 
I recently did a compilation post titled, The New Players Guide to Splinterlands: A Collection of Articles and Guides. This post serves as a summary of articles and guides I have written for new players starting fresh on Splinterlands. If you enjoy reading my Splinterlands content, please follow and support me by signing up to playing Splinterlands through my affiliate link: https://splinterlands.com?ref=mercurial9. 
Thank you for reading and hope you have a good rest of the day!
---
I also post my content on the following platforms:
Publish0x: https://www.publish0x.com/@aftershock9?a=Vyb82ANmev 
Hive: https://hive.blog/@mercurial9 
Read.cash: https://read.cash/@merurial9 
Uptrennd: https://www.uptrennd.com/user/mercurial9
Steempeak: https://steempeak.com/@mercurial9 
Instagram: https://www.instagram.com/minimalistpixel/
Pinterest: https://za.pinterest.com/minimalistpixel/boards/
Twitter: https://twitter.com/minimalistpixel 
COMMUNITY DETAILS
Blockchain & Gaming
A community for (almost) anything related to blockchain games - video games