Tiger Lily
Tiger L
10 Feb

OC
Uptrennd City: Mission 5 - OH MY GOSH!
Yes yes... the results for Mission 4 is coming!! I promise! They will be here tomorrow!!!
But guys!!! Let me tell you this!!
I was cooking in my kitchen, pouring all the hot water off the noodles into the sink!  The pot was so heavy and I almost scorched myself - alarmed at the BANG BANG BANG at the front door!!!
"Coming!!!"  I said, trying to get my heart to slow down. Who bangs on the door at 6 pm at night?!?!?!
I sighed, thankful that the scalding water hadn't splashed at me when I jumped in fright.  
"Coming!!"  I said again, as I jogged to the front door.  
Looking in the peephole at the top of the door, I could see no one.
"Hm.  That's odd."  I was a little nervous, but - not so nervous.  After all, I was surrounded my dear friends in Uptrennd City.  The SPAMmer Gang was long gone, and we had peace and quiet in our days now.
Still..... I hesitated a bit before opening the door.  "Oh don't be silly, Ti-Elle!"  I said to myself, and opened the door in a rush before I lost my nerve.
No one.  I quickly looked up and door the road.  It was darkening with the night, and nope - no one was there.  I was about to go back inside when I saw what was on the door mat, below me.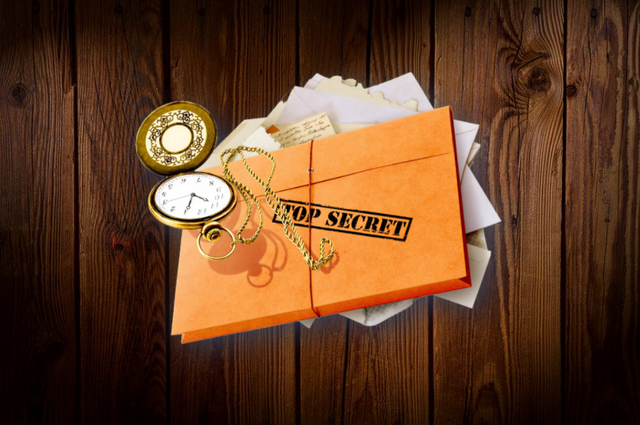 Huh.  Even more odd.
Papers, an envelope, a watch....
I grabbed them quickly and then entered the house.
The first thing I did - was read the letter that was hanging out of an open envelope under the TOP SECRET folder:


"You don't know mE.  But I know you.
I'vE sEEn what you and your band of TrEnndians are doing hErE in the nEw UptrEnnd City, and I want to hElp.  But.... I can't bE known.  How thEn can you trust that I want to hElp??  YEs, it was a quEstion I asked mysElf also. 
I nEEd to trust that you will all bE ablE to work togEthEr as a tEam, to solvE somEthing.  You sEE... I actually havE.... NO.  I can't say morE.  Not yEt.  Just know - this is your first tEst.  SolvE this, and more hElp will bE forthcoming.  
EvErything you nEEd to solvE your first tEst is hErE.
Mr. E"
hmmm.  clever.  Mr. E?  Guess he is a "mystery", alright.  What's in the folder, then?
A phrase with missing words. and some items....  interesting. A fork, a spur.
---
Head to  ______ ______'s land.  Go inside, and into the ________ room, move the painting on the  __  wall to reveal the safe. Enter the correct 4 digit code _  _  _  _ .   Can't figure it out?  Time's a tickin!
Missing Words
First one - Guess the right landowner. Clues should help.
Second one - which room:  bedroom? bathroom? dining room? living room? ball room?
Third one - which wall?   N, S, E, or W
Fourth one - How to guess the correct 4 digit code?  Must be SOME clue in that package!  _  _  _  _  
If you and your band of New Trenndians can figure this out, using that 4 digit code will reveal the evidence that I'm truly here to help.  Good luck!  I have faith in you all, Mr. E
---
Well, Uptrennd City family!   What do you think?  Are we up for this together??  You can all work together as a group - or you can work as an individual - but whenever you are certain - you MUST write a post with the answer - and explain how you got that answer! Remember -it's ok to work as a group - and talk in the comments, and even edit your answers in your post if someone convinces you to change it!   Don't worry - I'll make sure we are all in agreement before we solve this together!
Then be sure to drop a quote tweet under my TWEET HERE.  (remember to QUOTE TWEET THE URL OF YOUR MISSION 5 POST!)
We can solve this!  I know we can!!!  Let's get to it!
COMMUNITY DETAILS
General
Are other communities not relevant to your post? Post them here!