David Tosin
David T
02 Mar

OC
STOBOX - THE EVOLUTION IN FINANCE SECURITY


With strict capital controls in place by most countries to control the flow of money and charge high taxes, cryptocurrency gained usage in circumventing capital controls and taxes, leading to an increase in demand. Cryptocurrency has been able to present an easy to use digital alternative to fiat currencies. Offering friction-less transactions and inflation control, investors have been prudent enough to add these currencies in their diversified portfolios as an asset, as the size of the market does not represent a systemic risk. Cryptocurrency employs the use of cryptography that assures high-security processes and verifies transactions personal to each user.
Introducing STOBOX an award-winning company that provides technology tools and consulting services to streamline all operations with digital assets and tokenized securities. Stobox solutions have recently earned the organization an "Asset Tokenization of the Year " award at the AIBC Summit Award Ceremony. Stobox solution empowers organizations and companies with the power to change their foundation into a cutting edge foundation that has digital assets and tokenized protections. Clients simply need to face their business and allow Stobox to play her role as an aide and a consultant who will facilitate organizational issuance and overseeing digital assets.
STOBOX
Stobox is a company designed to change the way business as usual. It restructure businesses shape , transforming businesses digitally into a modern version. It issues digital assets and manage it .on behalf of its clients. Among the features of Stobox platform will be explained below, Stobox offers technology tools businesses required for their digital transformation and also offer consulting services . It offers comprehensive ecosystem for tokenized securities and business consulting services.. User focuses on their platform while Stobox manage any digital related services such as issuance of digital assets, legal management , consulting services, asset tokenization ,STO consulting and many more.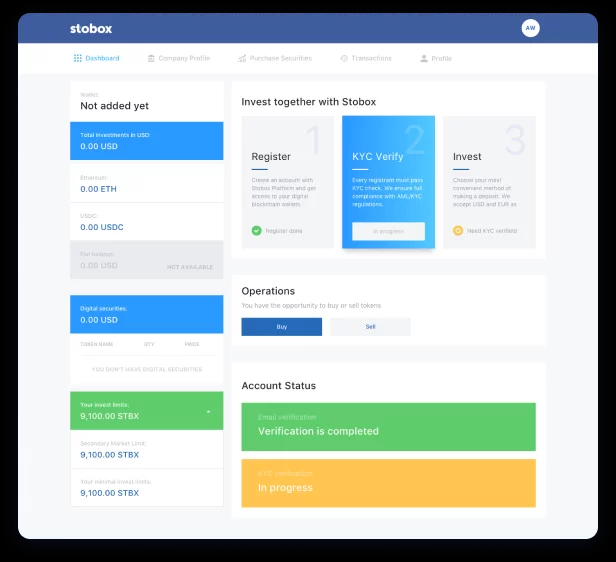 DIGITAL SECURITIES DASHBOARD.
Stobox Digital Securities Dashboard is made for users to digitize securities and perform all operations with them in a comfortable digital environment. They can sell stocks, pay dividends, conduct corporate voting, and corporate action in new digital ways that take advantage of this technology.
This dashboard is highly customizable and can be upgraded upon request too.
This modular platform also has a number of features including:


2 types of offers and various types of securities


Compliance module with built-in rules


Corporate action


Secondary market bulletin board


Company voting


E-sign documentation


Crowdfunding Machine


List of several securities


E-sign documents


Third party KYC integration


Best security


Transparency and easy to audit



Stobox is a platform that provides technology tools and consulting services for clients who want to transform their business. Stobox will be a comprehensive ecosystem in terms of digital assets and tokenized securities. Users only need to focus on their platform, and Stobox will play its role as an assistant in issuing and managing digital assets, legal management, and tokenization / STO consulting.
The following are the features provided by Stobox:
(1) Stobox Digital Securities Dashboard : This is a solution which enable tokenization .where businesses can raise funds for their business , reaching out to their various investors and trading their shares . Stobox Digital asset ecosystem is a very rich ecosystem comprises of many useful resources that will enable businesses to breakthrough . Startup businesses can conduct their fund raising through Stobox Digital Dashboard.
(2) Digital Securities Swap : The Dashboard consist of a platform where token swaps can be easily done among the listed tokens in the platform . The ecosystem offers all in one Digital Asset ecosystem where all digital services are being rendered.
(3) Regulatory Compliance Platform with Legal Management : Stobox itself is a regulatory compliance platform . All digital assets services rendered by the platform is conducted within the legal framework . The company assist businesses who want to be legalized for offering and issuing digital assets.
(4) Stbox NFT: Stobox will also incorporate NFT tokens and offer it for their users.
(5) Consultancy service : Stobox offers consulting service for businesses, Startups who want to integrate virtual assets into their businesses.
STOBOX TOKEN
Stobox platform have two different types of tokens which serves different purposes in the ecosystem . STBU and STBX token . STBU is a utility token that gives varieties of benefits across Stobox digital ecosystem .
STBU is an ERC20 token . STBX is the second token that powers Stobox platform . It is a security token that also represent shares or equity of a company . Holders or investors of STBX are regarded as shareholders and are entitled to the dividends of the company .They enjoy every benefits as a shareholders of the company .
Stobox have a lot of benefits which i will highlight below :
(a) Discounted Fees
(b) Payment of withdrawal and deposit fees in STBU
(c) Users rank increased the more they use STBU
(d) Discounted payment when using STBU for consultancy
(e) Bonuses are given when buying STBX
The following are details of these two tokens:
Ticker: STBU



Type: Utility




Total Supply: 100 000 000 STBU




Blockchain: Ethereum




Market Cap: $ 3,317,913.00




Circulation Supply: 32,999,387.54 STBU




Price: $ 0.1002



Ticker: STBX



Class-B Share: Stobox Technologies Inc.




Tokenized Shares: Issued 10,000,000 STBX (100% of Total Equity)




Offered Supply: STO - 1,000,000 STBX (10% of Total Equity)




Investor Requirements: US Accredited, EU Professional & Public, Worldwide - Selective




Token holder Rights: Equity and Dividends




Regulation: Reg D, Rule 506 (c)




Reg S: EU Prospectus Regulation, Article 1 (3)




Minimum Investment: US Accredited: 25 000 USD, Other: 1000 USD




Lockup: US Accredited: 12 Months, Other: None




The Roadmap: https://www.stobox.io/roadmap



The Team
​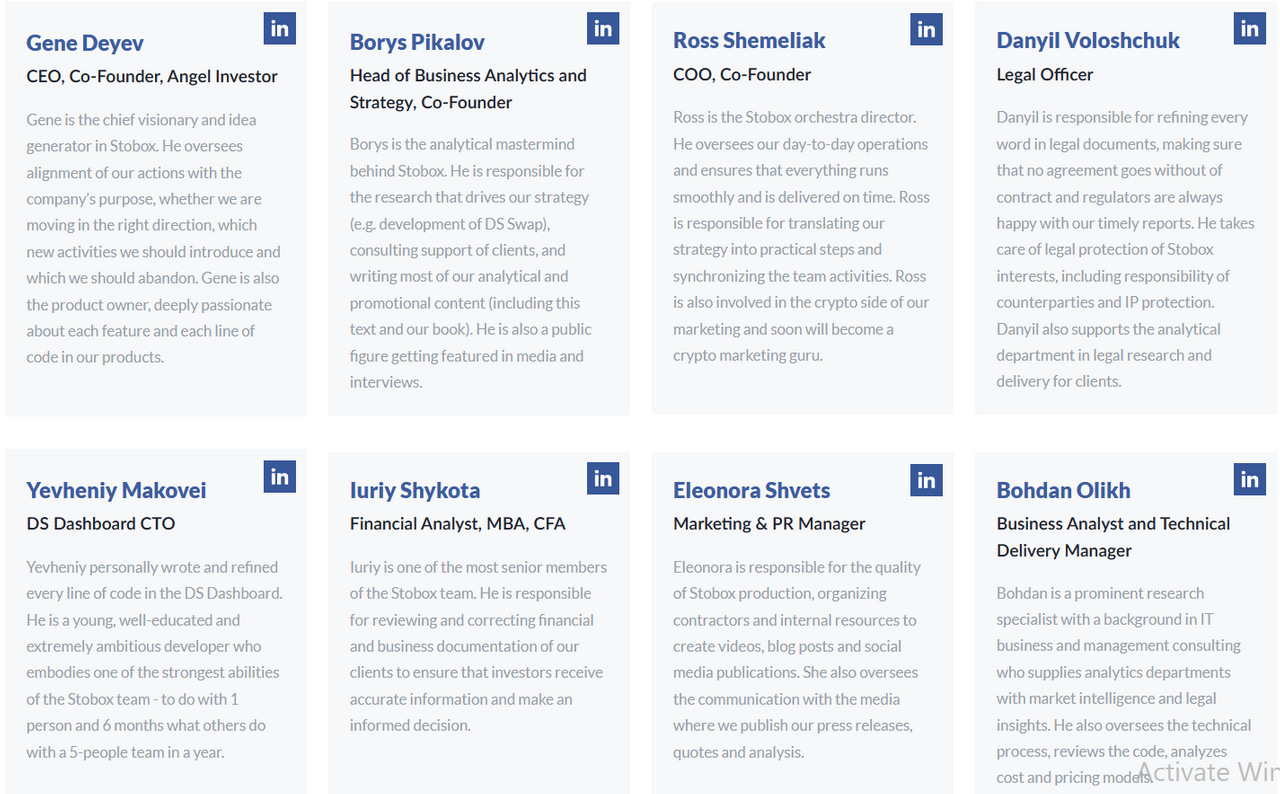 Stobox Offers a Better Way To Make Money in Crypto Than DeFi. Invest Like the Rich
https://news.bitcoin.com/stobox-offers-a-better-way-to-make-money-in-crypto-than-defi-invest-like-the-rich/

For more information about this amazing project, please visit:
Website: https://www.stobox.io/
LinkedIn: https://www.linkedin.com/company/stobox/
Facebook: https://www.facebook.com/StoboxCompany
Twitter : https://twitter.com/StoboxCompany
Telegram: https://t.me/stobox_community
YouTube: https://www.youtube.com/channel/UCMKnSJ4dkf0V1QLx5Bo2QTw
Author's Information
Bitcointalk Username: TosinDavid
Bitcointalk Profile Link: https://bitcointalk.org/index.php?action=profile;u=1180815
ETH Address: 0xCcb98E6AF2B1DBe621fbac6b48e6E98811Fe1243
Telegram: @TosinDavid
POA: https://bitcointalk.org/index.php?topic=5314030.msg56472463#msg56472463
COMMUNITY DETAILS
Defi
Decentralised Finance