Costanza Bets
Costanza B
27 Dec

OC
Splinterlands | Death Elemental Challenge
This week in the Share Your Battle Challenge, a death summoner Rare card is being highlighted. This is the Death Elemental...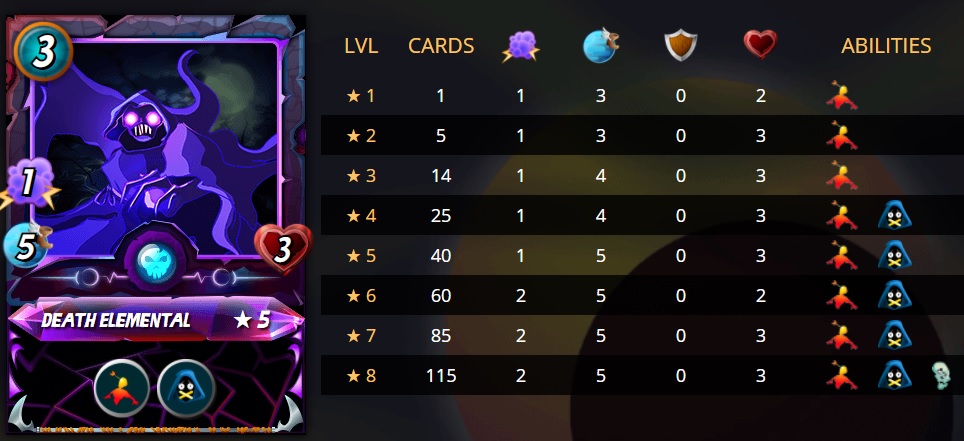 The Death Elemental is a card I don't have leveled up as I don't see it fitting in anywhere. Each class tends to have its own theme and a card that costs 3 mana with 3 health, 1 magic attack damage and snipe/silence ability doesn't really suit any narrative. The 3 health is too vulnerable, the 1 attack doesn't make a difference and the silence is more useful in matches where higher mana cards can be played. It is also a card that I don't see played all too often. I own 6 of them as single cards from packs I earned and I tried to play it winning a match without screwing up my ranking as I'm fighting for a spot that gives untamed packs in the Gold and Silver Rankings.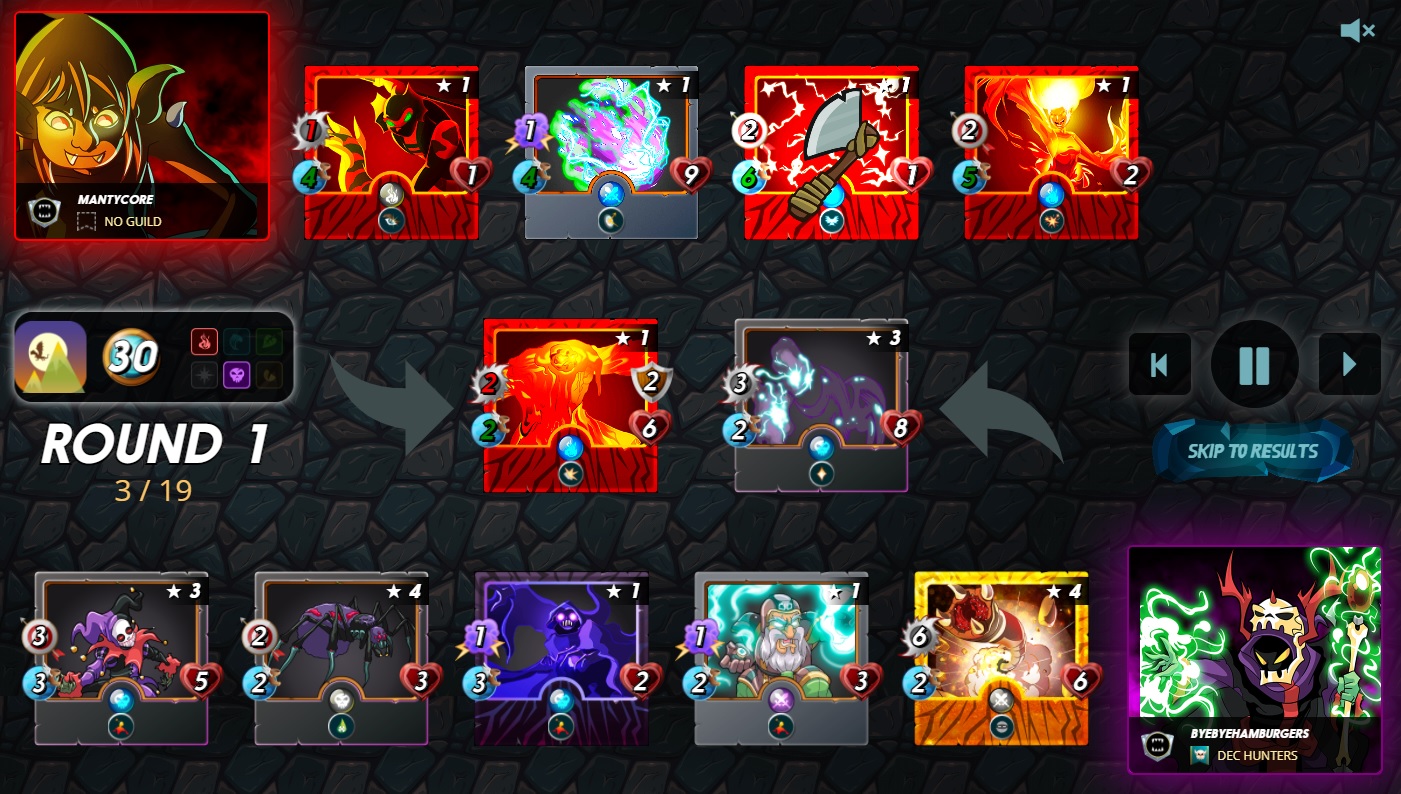 I pretty much screwed this match up not even putting in an effort assuming I was going to win regardless as I was facing a level 1 opponent. I misplayed taking not 1 but 2 level 1 cards (Death Elemental & Dwarven Wizard) with the same purpose to snipe with 1 mage damage being faced against the Prismatic Energy witch reflects the damage. The Haunted Spirit is usually a solid tank with heal for the Death Summoner. The Sand Worm with sneak is always good even though putting it in 2 spot is quite dangerous given the fact that it doesn't have all too much health for the cost. The Haunted Spider & Twisted Jester are usually my backline for the Death summoner.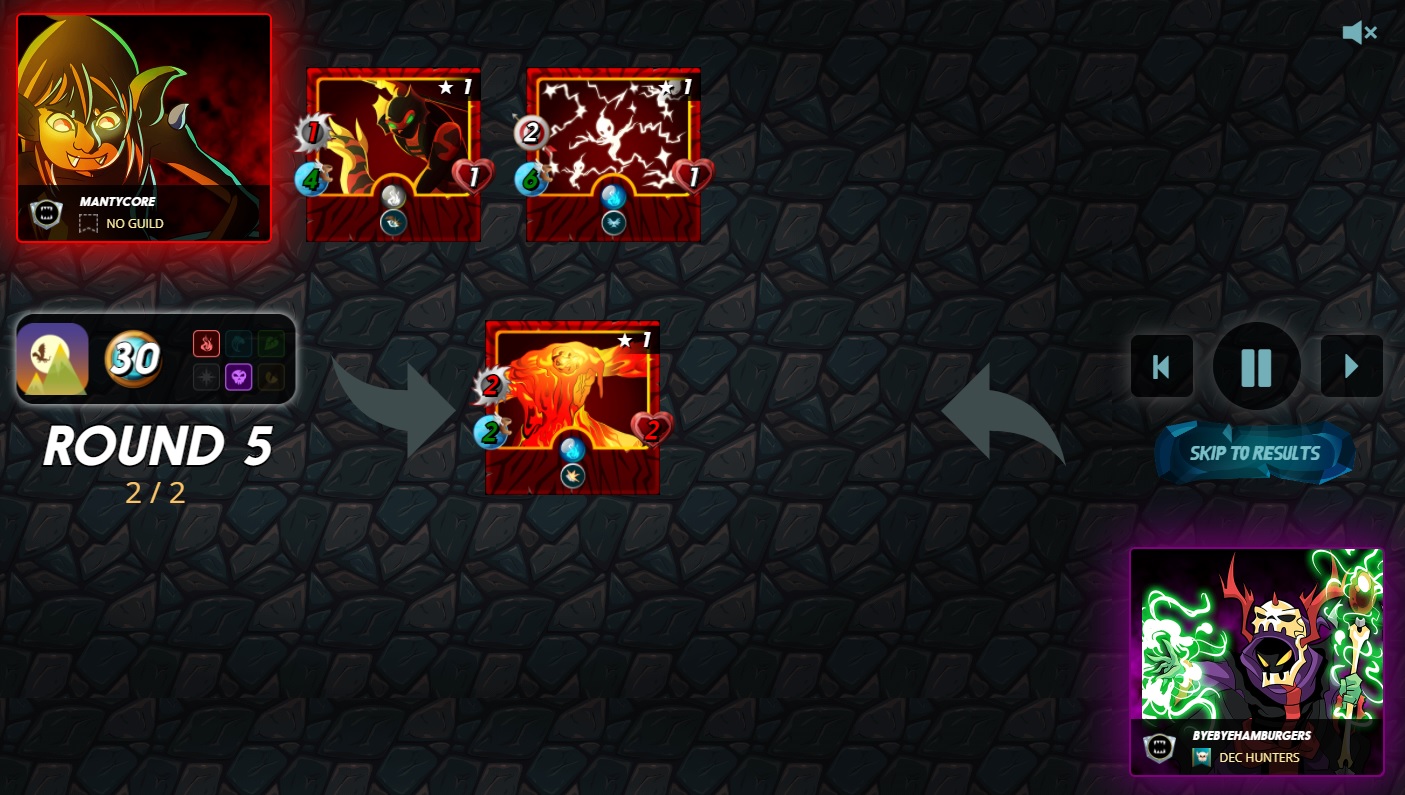 My Deck didn't hold up also because randomness was against me dropping causing me to drop 30 points in the rankings and possible costing me 2 packs unless I'm up for a grind playing a lot of matches gaining 3 points for each win setting a streak against these low-level opponents that have no chance unless I screw up trying to implement a weak card in my deck. I really hope the team finally gets their act together and fixes these balance issues making the game more fun again now that they have their money from the pre-sale just in time before the crypto bull market really kicks in. 
---
---
JOIN THE CHALLENGE
All Splinterlands players are free to join this Weekly Challenge (regardless of your rank) and will get rewarded by the team with Upvotes on Hive. If you haven't tried out the game yet, this is a great opportunity as it allows you to earn back the 10$ Price of the Summoner's Spellbook you need to get your Hive Private Keys after creating an account, share in the game rewards, get Daily Quests, join tournaments, Earn DEC for each Ranked Win,...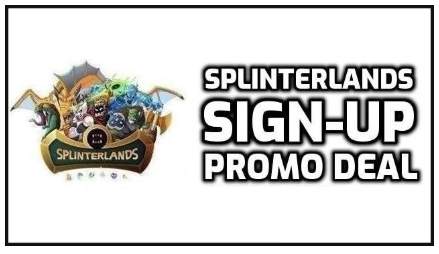 For now, I continue to offer a win-win deal to everyone who tries out the game using my Referral Link. I haven't seen anyone else doing this so I guess the best possible way for those who want to get into the game is by using my link. To see the full deal I'm offering for the month of December, check Full Sign-Up Deal.
To see what can be expected in terms of earnings from the Splinterlands game, check my monthly earnings reports.
---
Important: Treat games in the first place as games and not as investment opportunities, Splinterlands allows you to earn some money and get good returns but you are much better off flipping burgers in Mcdonalds when looking at the money earned for the time invested. Investing also comes with a risk of card values going down.
---
Hive: https://hive.blog/@costanza
Publish0x: https://publish0x.com/costanza
Twitter: https://twitter.com/costanzabets
COMMUNITY DETAILS
Blockchain Games
All things Blockchain Gaming :)