Tiger Lily
Tiger Lily
02 May

OC
I SPY A WINNER!!!!
Winner Winner Winner!!!!
As I was reading through the comments, I was thinking - gosh! some of them are soooooooo close!!!!  
As a matter of fact - they were so close - and SUCH faithful detectives throughout... I had to reward them too :)
so before I announce the BIG WINNER!
Let me announce the OTHER winners first - yep - because why??? SURPRISE! 
that's why LOL
I am SO impressed with you guys for following through the whole time - EVEN when it was hard!  You took every clue, found every member - and came up with a guess SO close!!!  So - I have tips to give!!!   Please message me in the Uptrennd Telegram room!  Go in there and say @Tigertrennd - I won the tip for I SPY  (but please also leave your uptrennd name so I know its you! hahaha) 
All of you have won 200 1UP  :) 
CONGRATULATIONS ON WORKING HARD!!!!! I'M SO VERY PROUD OF YOU FOR NEVER GIVING UP!
AND NOW.... ONTO THE BIG WINNER :)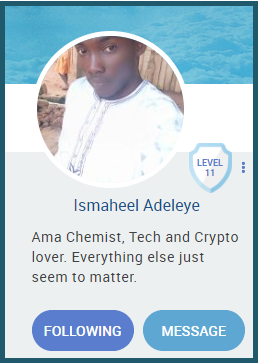 This detective... makes me very happy to see!  Obviously he got the EXACT name of the project!   
UPTRENND UNIVERSITY!  
(and guys.. wait for the post tomorrow showing you MORE details.  We need your help to make this the best University ever.... and we will give you LOTS OF OPPORTUNITY to be a part of it!)
But how in the world did he guess it?????
Well - @Jeff Kirdeikis MENTIONED the name of this project several times over the last 2 weeks! hahahahahahaha  Also - Ismaheel has been in our discord server for Tiger Trennd's room for a looooong time!   He doesn't say much!  But I bet he watches ALL the conversation!  The team is always VERY careful to not talk too much in the main room.  (We have a private room for our staff talks!)  But.... clever clever detectives can always pick up clues!   
And of course - the invitation for my Tiger Trennd room has been public since my FIRST Tiger Trennd Tip! LOL
He used EVERYTHING that was available to him - and I have to say Ismaheel.... we are all VERY impressed!
so would you please do us the honor of becoming the very FIRST....
UPTRENND UNIVERSITY STUDENT
There will be SO many that enroll after you!  But.... you will always and forever, be the FIRST :)
Please accept this from us!  We would be so honored to have you in class!
ALSO....
an upcoming interview on our new show!  "Spotlight on the Trenndians"  with @Bluefin Studios hosting!  We will broadcast this live, and also record it to showcase later!
Also - remember I told you that you would have your own customized, personalized banner?
One of our team members will create a University banner for you!  So far, only the team will have these!  The team - and you!
Please send me the picture that you would like created into your image for your University banner.  It will have the University logo, student info, and also have a caricature of you in this style:

And of course.... PLEASE send me your wallet information so I can deposit your 1000 1UP tokens!!!!
THANK YOU ALL FOR PARTICIPATING!!!
  AND BE ON THE LOOKOUT FOR A LOT MORE INFO ON 
UPTRENND UNIVERSITY!
(you never know when the next challenge will start...
 so be sure to keep your eyes out for any clues from the Uptrennd U Team!!!!)
COMMUNITY DETAILS
General
Are other communities not relevant to your post? Post them here!